Onsen in Kashiwa Island, Kochi. Unfortunately, there are no Day-use onsen or sentou on Kashiwa Island. It is necessary to move to other area, but we will introduce the best five onsen attached to the hotel where it is OK to just take a bath.
Hotel Bellreef Otsuki
ホテルベルリーフ大月
It's the closest one from Kashiwa Island. Bell Reef Otsuki is a resort hotel surrounded by nature and the beautiful sea. Here you can take a day spa with a sauna. If you want to stop by after a swim, this is the place to go. Click here to learn more about onsen. (Japanese only). It is also recommended that you stay here as a base for a tour around Kashiwa Island. See hotel details.
Price: adult 550 yen / child 330 yen / Towel rental available.
Open hours: 4:00 PM to 10:00 PM
Sukumo Resort Yashinoyu
宿毛リゾート 椰子の湯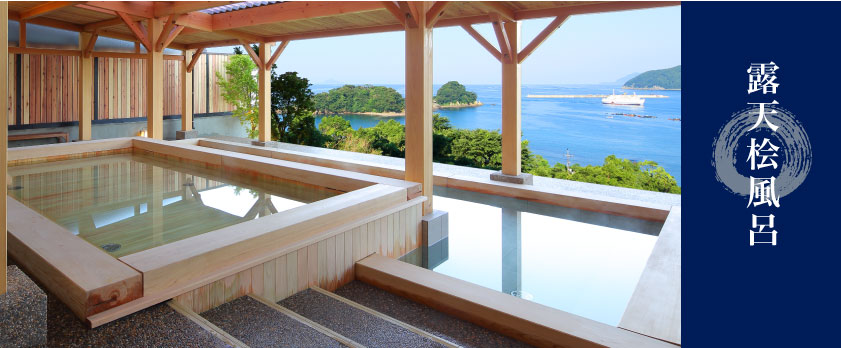 This resort hotel is about a 10-minute drive from Sukumo Station (宿毛) or a 40-minute drive from Kashiwa Island. There is a large bathhouse of a very nice open-air cypress bath (Hinoki) and a large bathhouse of a terraced open-air bath. Men and women can take turns to experience either of the baths. The Sukumo Bay seen from an open-air bath is also reputable to the Japanese, and you can enjoy the sunset and the light of the squid fishing boat of the night.
And, this hotel also performs activity tour arrangements such as a Yakatabune tour around the Shimanto River (四万十川) and Kashiwajima snorkeling tour. It is also recommended to use this as a base to enjoy the Kashiwa Island area to the fullest. See hotel details.
Price: adult 650 yen / child 300 yen / rental towels 100yen
Open hours: 6:00 to 8:30 AM / 1:00 to 10:00 PM
Ashizuri Pacific Hotel Hanatsubaki
足摺パシフィックホテル 花椿
Although it is a little far from Kashiwa Island, it is a very recommended day-use onsen in the Ashizuri area. The bathing time for day-use is from the evening, so you can take a bath while watching the magnificent sunset. I recommend stay in here also, this hotel has a good restaurants and facilities. See hotel details.
Price: adult 800 yen / child 400 yen
Open hours: 4:00 PM to 9:00 PM
Resort Hotel Ashizuri Thermae
足摺テルメ
Arizuri Onsen is a rare natural radon onsen that is said to have been loved by Kobo Daishi "Kūkai (空海)". Hotel thermae also offers an indoor pool for the summer season only. There is a large open-air bath and a cypress sauna. Accommodation is also recommended, as they can arrange a full range of experience tours such as making bonito Katsuo tataki. See hotel details.
Price: adult 770 yen / child 440 yen
Open hours: 6:00 to 9:00 AM / 11:00 AM to 11:00 PM
Ashizuri manjiro Footbath
万次郎足湯
You can see the Hakusan Natural Arch (白山洞門), which is designated as a natural monument in Kochi Prefecture. There is also a bench space next to the footbath, which can be used as a resting place.
Price: Free! 😊 / You can buy towel only 100 yen.
Open hours: 8:00 AM to 7:00 PM
Holiday: Wednesday
---
It was the post of the onsen that can be day-use around Kashiwa Island. It is recommended to drive if possible as it is very crowded in the summer. Enjoy the onsen of Kochi for the best post-swimming fun.
Other Kashiwa Island Articles